Prva Chevrolet Corvette s sredinsko nameščenim motorjem v zgodovini ni ravno vozilo, ki potrebuje spremembe. Vendar pa njegovi srečni lastniki, ne glede na to, ali so v Združenih državah ali Evropi, že uživajo v obsežnem katalogu nadgradenj na vseh ravneh, večinoma iz onstran oceana. Toda zdaj nam specialist SlyStyle pokaže, kaj lahko naredi s tem športnim avtomobilom.
Ta nemški tuner je specializiran za ponudbo nadgradenj za vozila, izdelana v ZDA. In zato novi Chevrolet Corvette ni mogel manjkati v njegovem katalogu. Za to izbrala je karoserijsko enoto kabrioleta, da bi pokazala svoje nadgradnjenamenjen optimizaciji njegove podobe in učinkovitosti.
Začenši s prvim od teh, so fantje pri SlyStyle oblikovali sprednji razdelilnik, ki ga je enostavno namestiti. Ta ima sijajni črni zaključek. Diskretne 'račke' so bile nameščene tudi na koncih sprednjega odbijača, da bi povečale tlačno silo na sprednji osi. SlyStyle ponuja tudi nove stranske pragove, velik zadnji spojler in prilagojen zadnji difuzor. In kako bi lahko bilo drugače vse te aerodinamične komponente imajo nemški certifikat TÜV.
Poleg optimizacije videza osme generacije športnega avtomobila Chevrolet Corvette imajo ti dodatki SlyStyle razlog. To je dokaz za to sprednji cepilnik lahko pritisne do 50 kg na sprednjo os, medtem ko zadnji spojler doda dodatnih 80 kg.
Na voljo so kovana platišča, nadgradnje vzmetenja in zavor…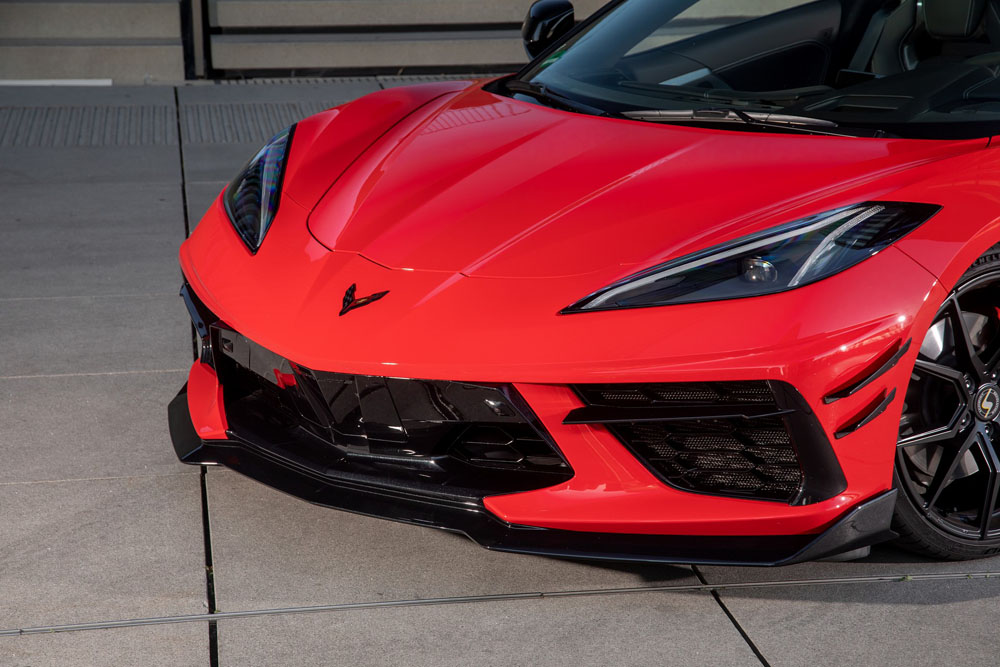 Cene vseh teh komponent za senzacionalno Corvette pa nemški strokovnjak ni objavil. Enako velja za komplet platišč, ki so na voljo kot alternativa originalu. Kovane so in obdelane v satenasto črni barvi. Prav tako imajo 20 palcev spredaj in 21 palcev zadaj za namestitev pnevmatik 255/30 R20 in 325/25 R21.. Kot da to ni dovolj, so na voljo tudi vzmeti, ki znižajo vozno višino za 20 milimetrov in so združljive tudi s sistemom dviga prednje preme.
Na mehanski ravni njegov atmosferski 6,2 V8 ni bil deležen večjih izboljšav. Vendar pa SlyStyle ponuja več "drobnjak", ki dodajo vašo osebno noto. Tu so še visoko zmogljiv filter, ki ga je oblikoval K&N (139 evrov), sesalni sistem po meri (med 349 in 1.299 evrov), športni izpušni sistem Grail s štirimi 114-milimetrskimi izpušnimi cevmi (5.450 evrov), visoko zmogljive zavorne ploščice ( 199 evrov)…
Retuša za Corvette 6.2 V8, ki razvije 485 KM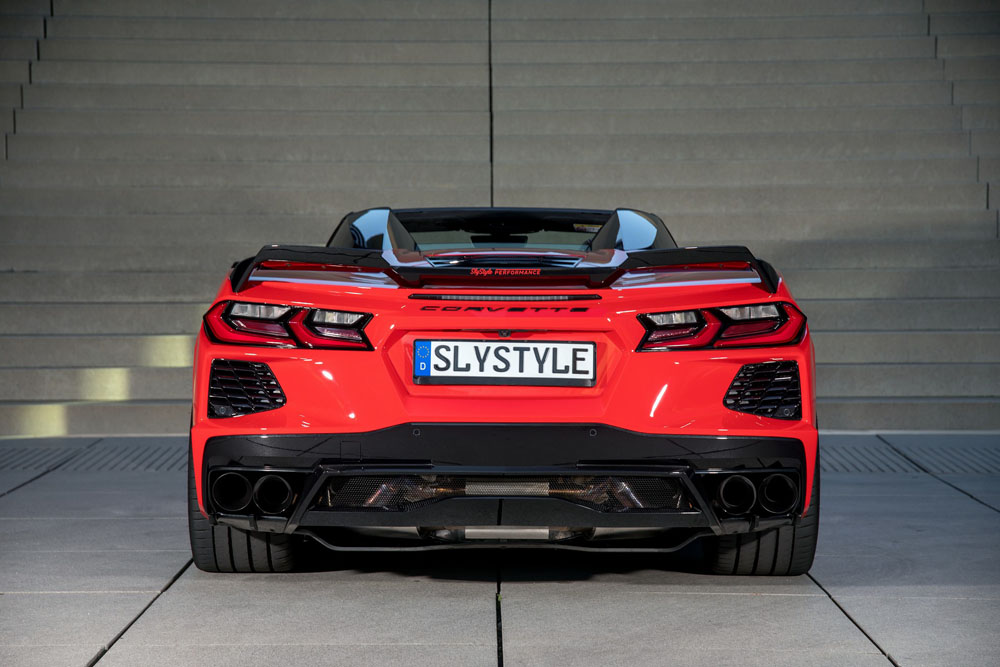 In čeprav strokovnjaki pri SlyStyle pravijo, da delajo na večjih izboljšavah njegovega srca 6.2 V8, resnica je, da že predlagajo dve izboljšavi. Tako imenovani Stage 1 stane 999 evrov in daje motorju Chevrolet Corvette do 474 KM in 598 Nm.. Vključuje filter K&N, nekaj posebnih sesalnih loput in ustrezen sklop. In tako naj bi od 100 do 200 km/h pospešil v 0,25 sekunde manj kot serijska različica. Poleg tega ga četrt milje zmanjša za 0,4 sekunde.
Če to ne bi bilo dovolj SlyStyle ponuja Stage 2, ki stane 1.599 evrov. K zgoraj navedenemu dodaja poseben sesalni sistem, ki pomaga izvleči skupno 485 KM in 610 Nm. Zaradi tega zdaj skrajša čas okrevanja od 100 do 200 km/h za 0,4 sekunde, medtem ko četrt milje prevozi tudi v 0,5 sekunde manj.